Prices
Prices vary, following the seasons, the neighbourhood, week-/ weekendday
rooms/shared bathroom
1/ 2/ 3 person/s: 20-40 · 45-55 · 60-80 €
rooms with bathroom
1/ 2/ 3 person/s: 35-45 · 50-65 · 60-90 €
apartment
1/ 2/ 3 person/s: 40-60 · 50-75 · 70-100 €
Prices include:
Prices include water, energy, heating, bedsheet, towels;
breakfast, (in case of a room: use of kitchen and washing machine) have to be negotiated with the landlord.
Prices do not include breakfast.
Price for breakfast:
The wishes of our guests concerning breakfast are that different, ( and many event don't want any) that we can't make prices here at this site, the price for breakfast has to be agreed with your landlord.
Tell us in your mail what you want, and we'll sent you an answer with our offer of the room/ apartment.
some more examples of rooms/ apartments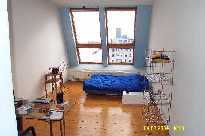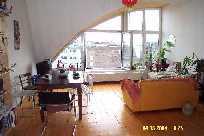 Our e-mail-adress: rooms@zimmervermittlung-berlin-kreuzberg.de
The team of Zimmervermittlung Berlin Kreuzberg

Your contact: Frieder Lehmann